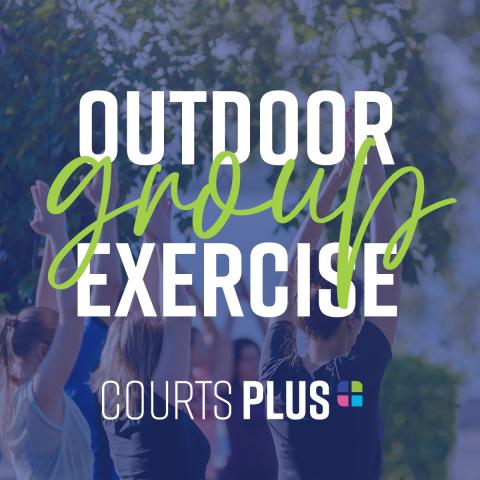 Work out with us outside! Outdoor Group-Ex returns to Plunkett Park this May. Classes are free to members and registration is required. Register for class anywhere between 1-4 days before, but no less than 24 hours prior. $13/class non-member.
Check out our upcoming Group-Ex Combined Schedule.
Refunds will be issued only if a class is cancelled by Courts Plus. In case of inclement weather, please check the Rainout Line via the Rainout Line app or at the Rainout Line website.
WHEN YOU COME TO CLASS
Please arrive 5-10 minutes beforehand.
Please bring a mat and water (mat not needed for Zumba).  No sharing of equipment.
Masks required outdoors when 6 feet distance cannot be maintained.
Please stay home if you are experiencing any of the following symptoms: Fever or chills, cough, shortness of breath or difficulty breathing, fatigue, muscle or body aches, headache, new loss of taste or smell, sore throat, congestion or runny nose, nausea or vomiting, diarrhea
In the event of inclement weather, outdoor classes will be cancelled and a virtual option will be offered instead when possible.