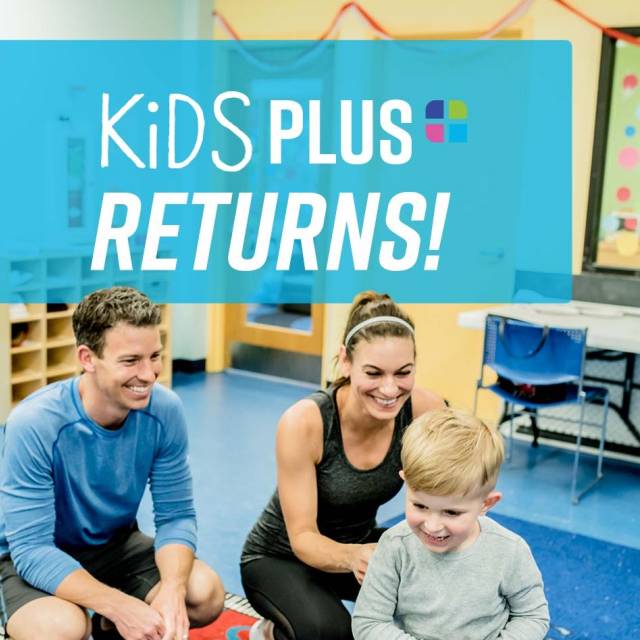 Take time to focus on your health. Kids Plus child care has reopened at our facility. It is a supervised child care service for kids ages 1-8 that is available to those who are working out at Courts Plus. The goal is to provide a safe, fun and creative play environment for every child.
Hours and Fees
Reservations are recommended, but drop-ins are accepted, based upon availability. Registration closes at 5 p.m. the day before.
| | | |
| --- | --- | --- |
| Monday-Friday | 8:30-10:30 am & 10:30 am-12:30 pm | $6 per child for members/$7 per child for non-members |
| Saturday | 8-9:30 am & 9:30-11 am | $5 per child for members/$6 per child for non-members |
Current Safety Guidelines
Good staff to child ratio
Cleaning and sanitizing all equipment used
Staff and children 2 years and older must wear masks
General Rules
Shoes & socks are required for all children inside Kids Plus.
Parents or guardians must remain in Courts Plus while their child is at Kids Plus
No outside food, candy, or gum. Staff will not feed children any meals or snacks.
If a child is upset or unruly we will allow a 15-minute adjustment period and then page their parent or guardian if needed.
Masks are required for all participants 24 months and older.
Courts Plus reserves the right to not accept any child who has symptoms of illness. If a child becomes ill while in Kids Plus their parent or guardian will be asked to take him/her home.
Children must have a clean diaper before dropping off. Kids Plus staff will not change diapers. Parents will be paged, if necessary, for this purpose.
There is a two hour time limit Monday-Friday and a ninety minute time limit on Saturday, however, we may page a parent or guardian if a child is upset or unruly. We allow a 15 minute adjustment time.
Only the person dropping the child off will be permitted to pick the child up.
Please note: On your first visit, you will be asked to fill out a short child information form to keep on file for future visits.