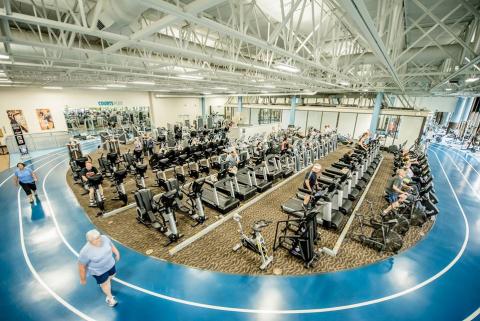 If you're looking to restart your fitness routine, you're in luck! Courts Plus has exciting changes coming starting Monday, August 31, and staff is ready to safely welcome more members into the club.
Monthly memberships, which have been on hold since April due to the pandemic, will be reinstated on September 1. The first monthly bill will be processed on September 15. Starting in October, bills will be processed on the first of the month. A partial credit resulting from the facility closure on March 14 has been put on your household account. If you have any credit on your Elmhurst Park District account resulting from overpaid membership fees or canceled programs, that credit will be applied to your membership fee before your card on file is charged. Expiration dates for annual memberships have also been extended by 171 days due the closure. More information will be sent directly to annual members ahead of your renewal date.
We are excited to announce that monthly membership rates have been reduced by as much as 25% for the remainder of the year. Rates will be as follows: $45 for an adult and $30 for an additional adult on your account; $35 for a senior and $24 for an additional senior on your account; $35 for individual young adults ages 18-22 and $24 for additional young adult on your account; and $16 for an individual youth 17 and under and $15 for an additional youth on your account.
Here are things to look forward to starting August 31:
No reservations will be required for the fitness floor, instead a capacity limit of 45 people will be in place
The pool will continue to be available through online reservations at no additional fee
Outdoor group exercise classes continue to be available through online reservations at no additional fee
Even more things are coming after Labor Day weekend, starting on September 8:
Facility hours will be expanded: Monday-Friday: 5:45am-1pm and 3-9pm, Saturday & Sunday: 8am – 2pm
Indoor group exercise classes will be available through online reservation at no additional fee. View Group Exercise page for details.
Indoor tennis will reopen for permanent court time, travel team practices and court reservations. Make reservations for 9/8-9/13 time slots by calling the service desk at (630) 833-5064 starting Friday, September 4 at 8am.
Registration for Indoor Tennis will begin at 8am on Tuesday, September 8. Classes begin the week of September 14. Click here to view classes and register.
Racquetball will reopen for court reservations for one-on-one play. Make reservations for 9/8-9/13 time slots by calling the service desk at (630) 833-5064 beginning Friday, September 4 at 8am.
Massage appointments will be coming soon!
Due to Phase 4 restrictions, several areas such as child care, the sauna, whirlpool and steam room will remain closed for the time being.
Members and staff are to wear a face covering in the facility at all times except while working out as long as a minimum of 6 foot social distance can be maintained.
Enhanced cleaning protocols are in place to keep members and staff safe. Numerous hand sanitizing stations will be available for use. Public restrooms will be cleaned and disinfected and fitness equipment and high touch areas will be wiped down with disinfectant every hour. Weekdays will have a mid-afternoon deep cleaning period for thorough disinfecting and air exchanges.
For more information, email courtsplus@epd.org.