Courts Plus News
Sunday, April 5, 2020 - 1:00pm
Free to all Courts Plus Members!
Saturday, February 29, 2020 - 8:00am
Registration for Courts Plus programs featured in Elmhurst Park District's Spring 2020 brochure begins Saturday, February 29, 2020- including registration for Summer Camps!
Posted
September 13, 2019
Our maintenance staff took full advantage of this year's planned maintenance during the month of August. Some of the work included painting done throughout Courts Plus, with the addition of accent colors inspired by our new logo! Hallway benches and over 40 chairs were reupholstered also.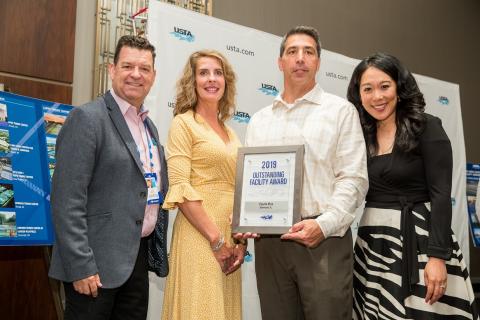 The United States Tennis Association (USTA) announced that Courts Plus is one of 25 winners in the 38th annual USTA Facility Awards program, which recognizes excellence in the construction and/or renovation of tennis facilities throughout the country.
Searching for experiences for your child which enrich their mind and body? Check out Kids Plus programming at Courts Plus, which offers many opportunities for active enrichment!
Perfect for your active, curious child, Kindergarten Kapers is a year-round pre-kindergarten and kindergarten enrichment program offering both progressive curriculum of reading math and science and fitness fun, including tennis lessons, climbing wall, yoga, nutrition and specialty classes.
The second annual Change Your Life Challenge wrapped up this spring with two winners being recognized for their success with a free 1-year membership to Courts Plus!
Are you looking to have fun while you run? Join staff and members for guided group runs led by Personal Trainer, Stephen.
We'll run on Wednesdays at 6:30pm and Saturdays at 8am. Meet us at the front door of Courts Plus prior to the run.
Anyone is welcome! Runners of all levels!
Tuesday, February 11, 2020 - 5:00am
Workout with a friend! Members can bring a guest for free today.
Wednesday, March 18, 2020 - 5:00am
Workout with a friend! Members can bring a guest for free today.
If you are looking to give your kids a unique camp experience this summer, look no further than the Courts Plus Camps. Summer Camps at Courts Plus begin Monday, June 3, 2019 and registration is now open! These camps stand out from the rest, and it's easy to see why!
Students, make your summer session count with a 99-day Student Membership at Courts Plus! At Courts Plus you can make your own fitness plan! From swimming, tennis, climbing wall, fitness floor and group exercise, you'll find something to fit your lifestyle.
Pages